Basic Info
Model No.: BEN325-1.0-20/200
Product Description
Model NO.: BEN325-1.0-20/200 Cooling Method: Screw Selected Voltage: 380V/50HZ Noise Level: Low Application Machine: Grinder Condition: New Evaporator:
Shell and Tube Heat Exchanger
Transport Package: Wooden Packaging Origin: Guangzhou China Type: Water-Cooled Unit Structure: Integral Compressor Number: 2 Application Fields: Pharmaceutical Certification: ISO, CE, SGS Size and Material: Can Be Worked as Per Client Requirement Trademark: JIEMA Specification: ISO9001: 2008 HS Code: 8419500090                                                               Shell and
Tube Heat Exchanger
for Evaporator
Descripition:
shell and tube
Heat Exchanger
 is a class of heat exchanger designs. It is the most common type of heat exchanger in oil refineries and
Other
large chemical processes, and is suited for higher-pressure applications. As its name implies, this type of heat exchanger consists of a shell (a large pressuere vessel) with a bundle of tubes inside it. One fluid runs through the tubes, and another fluid flows over the tubes (through the shell) to transfer heat between the two fluids. The set of tubes is called a tube bundle, and may be composed of several types of tubes: plain, longitudinally finned, etc.So,it is also called
Tubular Heat Exchanger
.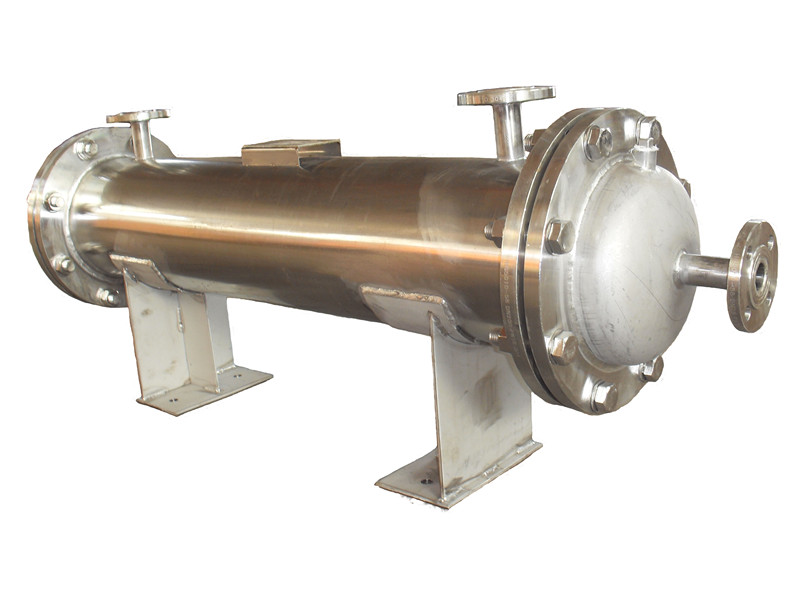 Theory :
Two fluids, of different starting temperatures, flow through the heat exchanger. One flows through the tubes (the tube side) and the other flows outside the tubes but inside the shell (the shell side). Heat is transferred from one fluid to the other through the tube walls, either from tube side to shell side or vice versa. The fluids can be either liquids or gases on either the shell or the tube side. In order to transfer heat efficiently, a large heat transfer area should be used, leading to the use of many tubes. In this way, waste heat can be put to use. This is an efficient way to conserve energy.
Shell and tube heat exchanger design:
Counter current heat exchangers are most efficient because they allow the highest log mean temperature difference between the hot and cold streams. Many companies however do not use single pass heat exchangers because they can break easily in addition to being more expensive to build. Often multiple heat exchangers can be used to simulate the counter current flow of a single large exchanger. 
Applications and uses:
1.cooling of hydraulic fluid and oil in engines, transmissions and hydraulic power packs
2.heating other mediums,such as water,beverager,orange juice and other steam
3.they are extensively applied in chemical industrial,pertroleum and energy source and etc.
Features:
  1)Simple structure, easy manufacturing
  2)Large processing quantity (1-2,000m³/h)
  3 lStable and reliable operating state
     Strong adaptability (applicable to almost all industries)
  4)Adaptability to high temperature and pressure (≤800°C; ≤6.0Mpa)
Material :
     . Tube : carbon steel , stainless steel SS304 ,SS316 L  , copper ,
     . Shell : carbon steel , stainless steel SS304 ,SS316 L 
Design selection need to provide the following parameters:
| | | |
| --- | --- | --- |
| Description  | Hot side  | Cold  side  |
| working medium name  |   |   |
| flow rate  |   |   |
| inlet temperature  |   |   |
| outlet temperature  |   |   |
| Working pressure  |   |   |


Model Specification Example :

The Heat Exchanger Tube Specifications Φ20
DN
Quantity of tube pass
Quantity of heat exchanger tube
Quantity of center raw tube 
tube pass flow area(m²)
Heat exchanger area(m²)
Tube length(mm)
1500
2000
3000
4500
6000
159
1
15
5
0.0030 
1.4 
1.9 
2.8 
 
 
219
1
33
7
0.0066 
3.1 
4.1 
6.2 
 
 
273
1
65
9
0.0131 
6.1 
8.2 
12.3 
18.4 
24.5 
2
56
8
0.0056 
5.3 
7.0 
10.6 
15.8 
21.1 
325
1
99
11
0.0199 
9.3 
12.4 
18.7 
28.0 
37.3 
2
88
10
0.0088 
8.3 
11.1 
16.6 
24.9 
33.2 
4
68
11
0.0034 
6.4 
8.5 
12.8 
19.2 
25.6 
400
1
174
14
0.0350 
16.4 
21.9 
32.8 
49.2 
65.8 
2
164
15
0.0165 
15.5 
20.6 
30.9 
46.4 
61.8 
4
146
14
0.0073 
13.8 
18.3 
27.5 
41.3 
55.0 
450
1
237
17
0.0477 
22.3 
29.8 
44.7 
67.0 
89.3 
2
220
16
0.0221 
20.7 
27.8 
41.5 
62.2 
82.9 
4
200
16
0.0101 
18.8 
25.1 
37.7 
56.5 
75.4 
500
1
275
19
0.0553 
 
34.6 
51.8 
77.8 
103.7 
2
256
18
0.0257 
 
32.2 
48.3 
72.4 
96.5 
4
222
18
0.0112 
 
27.9 
41.8 
62.8 
83.7 
The Heat Exchanger Tube Specifications Φ25
DN
Quantity of tube pass
Quantity of heat exchanger tube
Quantity of center raw tube 
tube pass flow area(m²)
Heat exchanger area(m²)
Tube length(mm)
1500
2000
3000
4500
6000
159
1
11
3
0.0038 
1.3 
1.7 
2.6 
 
 
219
1
25
5
0.0087 
2.9 
3.9 
5.6 
 
 
273
1
38
6
0.0132 
4.5 
6.0 
9.0 
13.4 
17.9 
2
32
7
0.0055 
3.8 
5.0 
7.5 
11.3 
15.1 
325
1
57
9
0.0197 
6.7 
9.0 
13.4 
20.1 
26.9 
2
56
9
0.0097 
6.6 
8.8 
13.2 
19.8 
26.4 
4
40
9
0.0035 
4.7 
6.3 
9.4 
14.1 
18.8 
400
1
98
12
0.0339 
11.5 
15.4 
23.1 
34.6 
46.2 
2
94
11
0.0163 
11.1 
14.8 
22.1 
33.2 
44.3 
4
76
11
0.0066 
9.0 
11.9 
17.9 
26.9 
35.8 
450
1
135
13
0.0468 
15.9 
21.2 
31.8 
47.7 
63.6 
2
126
12
0.0218 
14.8 
19.8 
29.7 
44.5 
59.4 
4
106
13
0.0092 
12.5 
16.7 
25.0 
37.5 
50.0 
500
1
174
14
0.0603 
 
27.3 
41.0 
61.5 
82.0 
2
164
15
0.0284 
 
25.8 
38.6 
58.0 
77.3 
4
144
15
0.0125 
 
22.6 
33.9 
50.9 
67.9 


  Contact us if you need more details on Shell and Tube Heat Exchanger. We are ready to answer your questions on packaging, logistics, certification or any other aspects about Heat Exchanger as Evaporator、Evaporator. If these products fail to match your need, please contact us and we would like to provide relevant information.

Product Categories : Shell and Tube Heat Exchanger